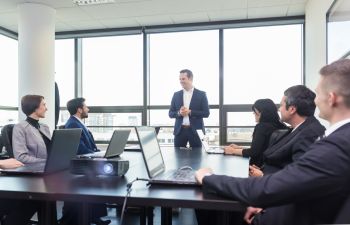 When times are tough or uncertain, many owners try to avoid the pain by ignoring what is happening. They have false hope that things will turn around. Savvy owners create new opportunities for growth. Here's how to be the latter:
Reduce Tax Liability
Now is the time to adopt a new tax planning perspective in your annual tax review. Talk to your advisory team about:
Stimulus and tax relief programs
How you might strategically use a single year's losses
Leveraging tax reduction option such as healthcare and qualified retirement plans
Intelligently Cut Costs
Your competitors are in a similar position to you: making tough choices about where to slash costs while still preserving operations. Sometimes a major catastrophe is the only way that owners re-evaluate their business models. Now is the time to consider:
Combing roles to deliver products efficiently and affordably
Delaying planned equipment purchases or expansions
Reducing lines of services or eliminating customers that demand significant capital or customization
Whatever decisions you make, you must make sure they do not affect your team's morale. Maintain open communication and a positive working environment to reduce fear and prevent team members from jumping ship.
Weigh Growth Options
Many owners, scared of the future, look to find ways to wind down rather than grow. But now could be an ideal time to acquire smaller, less agile companies who might otherwise go under. Your strategic plans may be within reach—and become more affordable—when you can access another company's assets. Some options to consider include:
Purchasing a customer list from a closing competitor
Acquiring equipment, staff, or inventory from smaller competitors
Suggesting seller financing and flexible payment terms as bank financing becomes less accessible
Personal Planning Issues
Your exit plan should also take into account your personal future. Work with a financial advisor to discuss:
Exit timeline: How might the economic crisis affect your exit timeline, including your ability to save for retirement?
Business continuity: What is the plan for your business should something happen to you?
Family support: Do you have loved ones in need of help? Are there creative ways you can support them, such as bringing them into your business in a role where they can succeed?
No two exit plans are exactly alike. And economic turmoil inevitably spurs panic. A sound plan is your most potent weapon against uncertainty, decline, and financial woes. Begin working with your advisory team now.
The first step in working with Strategic M&A Advisors is to contact us to schedule a confidential, no-obligation (and no-cost) conversation at a time and place that's convenient for you. This will enable us to learn more about your business and your M&A goals while explaining how we can help you achieve your goals.
About Strategic M&A Advisors
Business sales come in all shapes and sizes. At Strategic M&A Advisors, we can help you determine the most advantageous option for selling your business. We handle all types of merger and acquisition transactions, from outright sales to investment options to grow your business. The first step is an evaluation of your business and goals to determine the best path to get the results you desire. If it is the right time to sell, we will assist you in finding vetted buyers or investors and getting the best price and terms for your transaction.
Posted on behalf of Strategic M&A Advisors